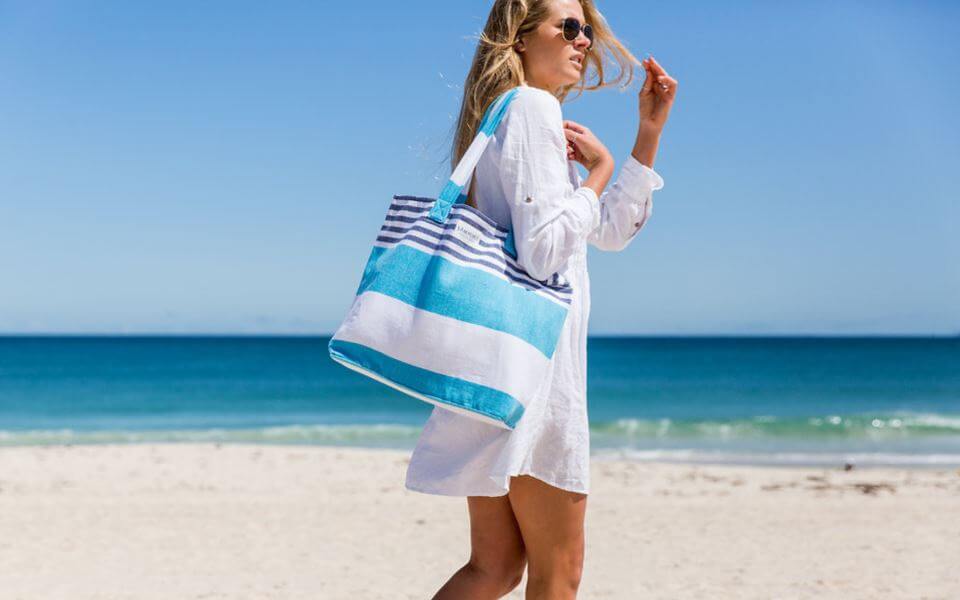 A Feature Packed Beach Bag For A Busy Summer
The SAMMIMIS St Tropez beach bag has all the features that make it ideal for your summer travel. The tough canvas lining gives the bag its durability. The exterior is made of 100% Turkish cotton that is stronger and softer than regular terry cloth. The highly absorbent material makes it ideal for a day at the beach or for lounging beside the pool. It's made to absorb water and won't stain when it gets wet.
If you've ever needed a family beach bag that keeps everything together, the SAMMIMIS St Tropez works perfectly. It's a large beach bag that carries 6+ SAMMIMIS Turkish towels, depending on the towel range, along with your phone, wallet, sunglasses, sunscreen, water bottle and other necessities. An inside pocket keeps small items secure where you can easily find them.
The beach bag looks great too! Take it to the beach, on a day out with friends, or when you need to pop into the shops to grab milk and eggs. It's also great for taking to swimming lessons for kids and adults alike. Take along when you travel or use it as a large handbag when you go out to a café. The beach bag's appealing shape and large size make it great for carrying all types of items. And you never have to worry about losing any of its contents.
A large beach bag that has no defined shape can be awkward and difficult to carry. The SAMMIMIS St Tropez is a lightweight beach bag that makes carrying a range of items easier. A support stiffener at the base of the beach bag helps it keep its shape. Unlike traditional beach bags without any structure, this bag doesn't roll and allow items inside to shift. The design makes it more comfortable to carry over your shoulder. It also helps keep items inside upright once you set it down.
The larger SAMMIMIS St Tropez beach bag holds more of the large items you take to the beach. The beach bag with a zip compartment inside lets you keep smaller items secure so they don't fall out. Even if the bag gets knocked over at the beach, there's no danger of losing your keys in the sand!
Several features set the SAMMIMIS St Tropez apart from other beach bags. It looks great, feels comfortable, and offers plenty of space for everything you need for the entire family. Unlike other beach bags, it's fully washable. The SAMMIMIS St Tropez is the lightweight beach bag you'll take everywhere this summer.
At the end of the day or after your trip, just put it in the wash to get it ready for your next adventure. The SAMMIMIS St Tropez is more than a beach bag; it's the perfect travel companion, a great family beach bag, handbag, baby bag, and more!