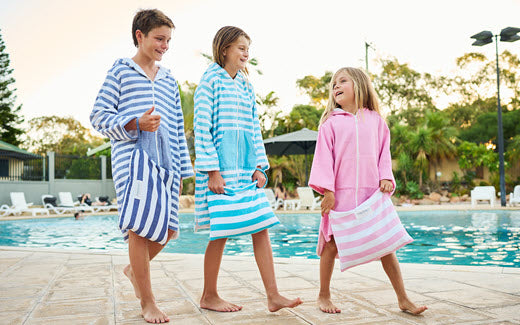 A Kids Hooded Towel That Has It All
You only want the softest fabrics next to your kids' skin. The SAMMIMIS Menorca hooded towel for kids is made of Classic Weave Turkish towel on the outside and lined with terry on the inside. The 100% Turkish cotton interior helps keep them warm.
The all-natural cotton provides superior absorbency. It pulls water away from your little ones after getting out of the tub, after swim lessons, or a day at the beach, while the natural fibres allow air to circulate so it also keeps kids from sweating. The hooded beach towel helps them get dry from head to toe. It's also a great way to keep them warm on chilly mornings during any season. They'll love it so much, they'll want to wear it everywhere they go.
The zip front styling makes it easy to put on and take off. You never have to struggle with fussy kids to get them dressed. That's a big bonus to parents with little ones who aren't always agreeable!
Large hooded towels are a favourite for kids and their mums. The SAMMIMIS hooded beach towel has several features that make it even more versatile than other hooded towels. For one, it has a very relaxed, comfortable fit. It has a straight fit from the shoulders to the hem.
You'll also find it is longer in length in the back, perfect to cover wet legs whenever kids sit down. It protects your car seats and chairs from getting wet too!
One purpose of kids' hooded beach towels is to provide coverage for wet hair. The SAMMIMIS Menorca hooded towel has a large hood for greater protection. It covers the sides of the face to protect tender skin from sun exposure. It also helps keep your kids' head warm whenever their hair is wet from swimming or showering.
The long arms provide greater protection from the sun. The absorbent terry lining prevents chilling while the cooling cotton helps regulate their body temperature. The front pocket gives them enough room to keep their hands dry and warm too. These kids hooded towels with zip and pocket help to keep them comfortable wet or dry, in any setting.
The hooded towel is dyed with textile vegetable dye that is certified to keep your little ones safe. Each towel is prewashed to maintain the colour and shape. The 100% Turkish cotton fabric is ethically manufactured in Turkey.
Our kids' hooded beach towels are a must-have for kids of every age. They are great after swimming or swim lessons, at the beach, pool, home as a bathrobe, or school. Your little ones will love the way it looks and feels!