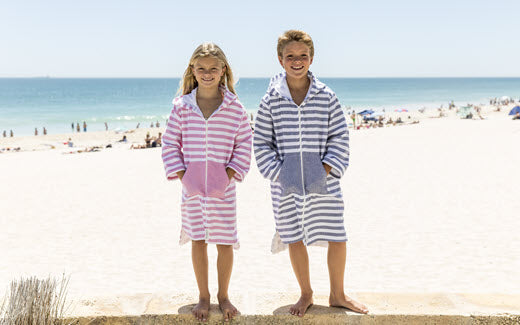 SAMMIMIS Kids Hooded Towels makes perfect sun sense!
Looking for a solution that will help your kids get the best from the beach this summer? Kids Hooded swimming towels are the way to go. They're convenient. No need to pack, simply slip on and get dried while wearing; and most of all, your kids will love them.
One Towel, One Solution
Now you can carry fewer items in your beach bag. The large hooded towel does the work of two piece, with added benefits. SAMMIMIS Kids Hooded towel are made of ethically produced 100% Turkish cotton, coloured with Oeko-Tex certified vegetable dye, and are soft and gentle on the skin due to their weave. Thanks to this lightweight absorbent material, the relaxed fit towel is comfortable, breezy and easy to put on, the perfect choice for drying off after a swim.
Your kids can use the hooded beach towel to dry their bodies while simultaneously drying their hair. This eliminates the need for multiple towels, so you won't be constantly wondering why you're a towel short. The breathable cotton will feel light on your child's skin while preventing sweating.
No need to iron the towel, the Turkish cotton is less prone to crinkling than other fabrics. SAMMIMIS Kids Hooded towels come in 5 styles and sizes ranging from six months to 12 years+ allowing kids of all ages to enjoy this unique and practical garment. Please view size guide under the product description on each product page.
The hooded beach towels feature a split on each side which makes for a comfortable fit when walking or sitting. And roomy enough to allow easy clambering about and running around on the beach.
Comfort and Style
Kids hooded beach towels are both comfortable and stylish, so your kids will love using them. Best of all, they provide two solutions in one product, a towel for drying the body and a hood for drying the hair. The towel will keep your kids warm when out of the water, and the hood will protect them from the sun and wind while the breathable lightweight material keeps them cool. Why carry a towel around when you can just wear it instead.
The hood is large enough to cover the head and sides of the face, providing added protection from the elements. The long sleeves help prevent sun burn without absorbing heat, thanks to the cooling nature of the cotton when it touches wet skin. It can even be used as a poncho at any time or SAMMIMIS zip up towels make great bathrobes.
Advantages of Hooded Towels for Kids
SAMMIMIS Hooded towels offer many important advantages that shouldn't be overlooked. First, the hood is integrated to the design, ensuring that your child will find it easy to dry themselves from head to toe.
Large hooded towels can be used anywhere. Whether you're planning a fun day at the beach, attending swimming lessons, an exciting holiday or an evening hanging out at the pool, a hooded towel for kids is one accessory you won't want to be without.
SAMMIMIS hooded towels for kids also cover more of the body from the head down, so will make drying off a breeze. Your child is also less likely to lose a hooded towel than a regular one because it can be worn like a garment rather than simply wrapped around the body. The pre-washed material keeps both colour and shape, so the towel will always be ready for use.
Finally, SAMMIMIS hooded towels are more efficient than traditional towels because they do the work of two in one. No more forgetting that extra towel for drying your child's hair. All you need is one hooded towel, and you're good to go. It's simple, easy and the most convenient solution you'll ever need for a day at the beach.