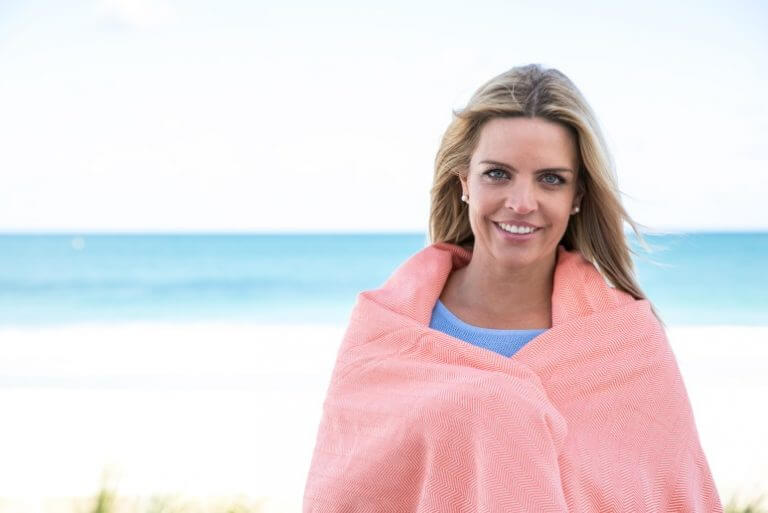 I can't tell you how excited I am to join the SAMMIMIS family.
Owning a SAMMIMIS Turkish towel is one thing but SAMMIMIS are genuinely more than just a Turkish Towel company. They're all about promoting a happy, healthy and authentic way of living which is so much of who I am.
To give you some idea why I identify so much with these values, I'll fill you in on a little bit about myself. I've worked in the media for thirteen years as a sports journalist as well as a lifestyle and travel presenter so everything I do is focused on being outdoors and enjoying an active lifestyle. I've been lucky enough to have the best seat in the house covering everything from AFL, cricket, netball, basketball and swimming with Channel Ten, Nine and Fox. If that wasn't already a dream job I've had the opportunity to combine it with lifestyle and travel presenting for Destination WA and Explore TV. Not only do we get to promote all the great things about my home state of Western Australia but also experience incredible sights and cultures abroad. I know I've been incredibly fortunate to be able to call this work but travel is something I'm so passionate about and would encourage everyone to do as much as possible. It doesn't have to be overseas, or indeed very far at all, but there's something to be said for getting out of your own backyard – meeting new people, seeing more of our incredible planet and expanding your mind while you're at it! When I'm not working, I love nothing more than being at the beach, whether it be spending time with friends, getting lost in a good book or hitting the surf – it's definitely my happy place!

So as you can tell, I'm someone who's always up for an adventure and I strive to live life with an open heart and optimistic spirit. From meeting Dana, the founder of SAMMIMIS, I know this is so important to her and her team. I love the fact SAMMIMIS is all about encouraging a fun and active lifestyle and most importantly one that's engaged, not only with the people closest to us but also the wider community. I've been approached by brands in the past to collaborate and work together but have turned down opportunities because they just didn't feel like the right fit. With SAMMIMIS, it was different – I feel a genuine affiliation for the brand and all that they stand for. Probably most importantly though I love the towels! They're 100% Turkish cotton, top quality and fantastic to use at home or to throw in your suitcase when travelling. Two years ago I actually bought a whole stack of SAMMIMIS towels at the Karrinyup pop up store for gifts, little I knew at the time that I'd be standing here today as their brand ambassador, one of my friends had just had a baby so it was perfect for her to use as a wrap while others loved them for the beach or outdoor picnics. I must admit, I did also keep a couple as pressies for Caty, from Caty!
They will definitely be put to good use this summer again I'm sure and I hope you'll be inspired to join me whether it be at the beach or wherever you find your own "happy place"!
Caty xx