Article: Baby Hooded Towels From SAMMIMIS Are Designed For Maximum Care And Protection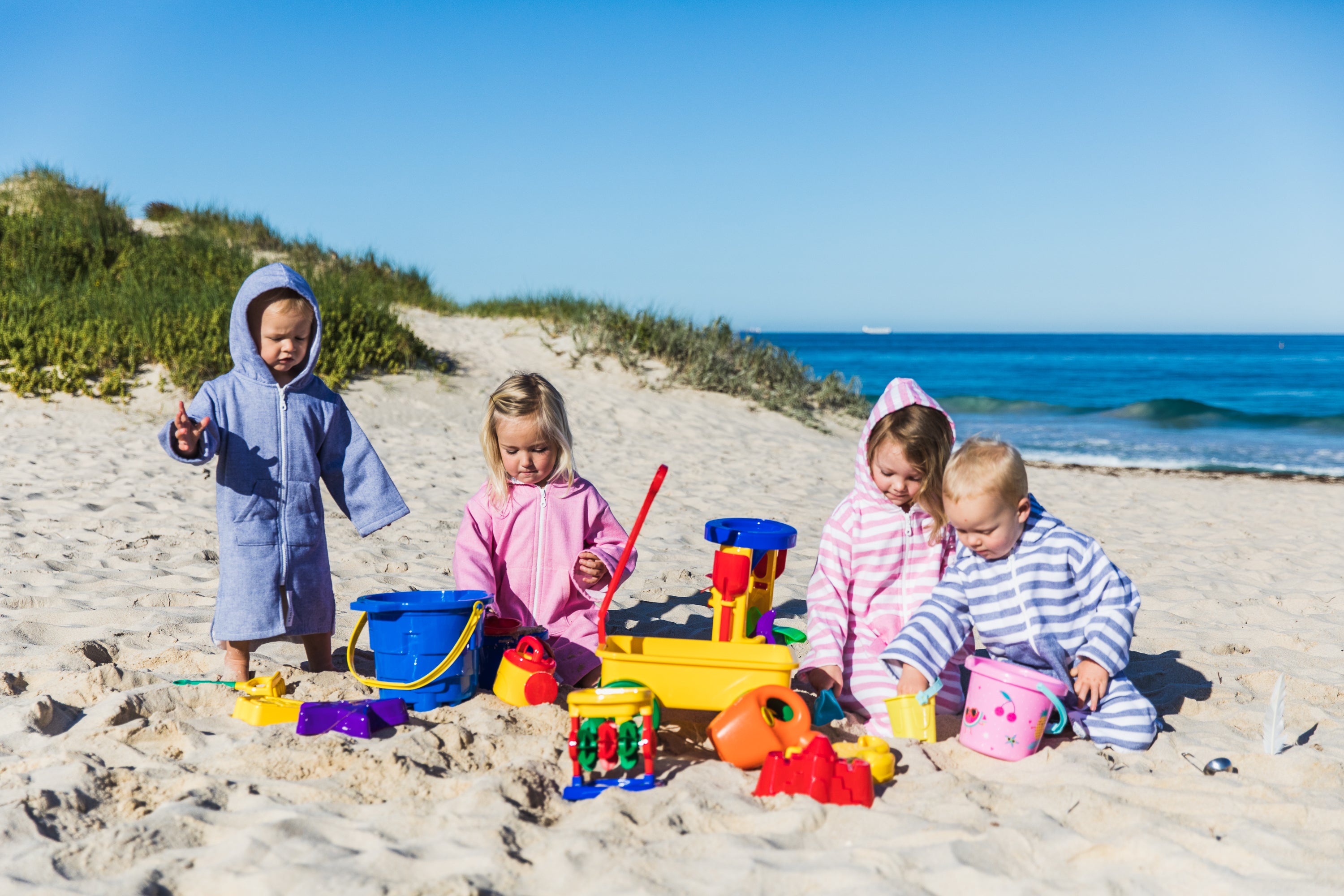 Baby Hooded Towels From SAMMIMIS Are Designed For Maximum Care And Protection
According to research, your child's skin is incredibly delicate and also a whole lot thinner than the skin of older children or adults until the age of around 24 months. With skin that is so much more sensitive and lungs that are still developing, it is important that you use the most natural, lightweight and breathable materials when choosing products for bed, bath time and outdoor activities for your little one.
And a soft baby hooded beach towel from SAMMIMIS ticks those boxes in every way.
With that in mind, here are some reasons why a hooded towel for your baby is a good idea:
Newborn babies and very young children are prone to chills until they've developed that insulating layer of baby fat that most have. So, it is essential to get them dried off as quickly as possible. At the same time, you want to be as gentle as you can possibly be, which is why a lightweight and extra-soft baby towel that is ideal for newborns to toddlers is always best.
Babies can't self-regulate their temperatures at first, so a hooded baby towel will help keep them covered up and goosebumps-free between their nice warm bath and their cosy cribs.
Towels made for babies are generally made with a lower pile than traditional Egyptian terry cloth towels. This makes them smoother and not as abrasive against the delicate skin of a baby without sacrificing absorbency.
Parents know that water play, be it bath or swim time, can be a fun experience with adorable memories — or a tear-filled battle. Having a designated towel for this can help them become accustomed to the experience and also establish a comforting routine.
Woven Turkish cotton baby hooded towels are also sand free. Your baby can wear it at the sandy beach, and you won't carry a sand pit back to your home!
The probably nicest benefit for you as a parent… why carry it if your baby can wear it? SAMMIMIS baby hooded towels are designed for you and your baby, so you can slip the baby hooded towel on, zip up and go. You'll never lose a towel again.
Shop our extensive range of hooded baby towels that include a range of designs and colours with or without zips, pockets and inner terry cloth linings. The styles we offer are LIGHT and TERRY.
Hooded baby beach towels from SAMMIMIS are lovely, soft, lightweight garments that are great for the beach or pool after swimming, providing an extra layer of sunscreen while playing without feeling hot. Meanwhile, the TERRY baby hooded towels are perfect for the colder months when taking your kiddos to and from swimming activities.
Look for our 'compare me' charts on each product page to identify the differences more easily.
All our products have confidence in textiles certification OEKO-TEX®, which means SAMMIMIS products are coloured with safe natural vegetable dyes and meet the standards presently established for baby articles.
All our products are ethically made in Turkey. We provide free standard shipping on orders over $99 within Australia and ship worldwide with DHL for a flat rate fee starting at $19.
You can enjoy the fact that you're helping to build a safer, cleaner world when you order from us. That's because we use 100% biodegradable postage satchels and carbon-neutral shipping providers!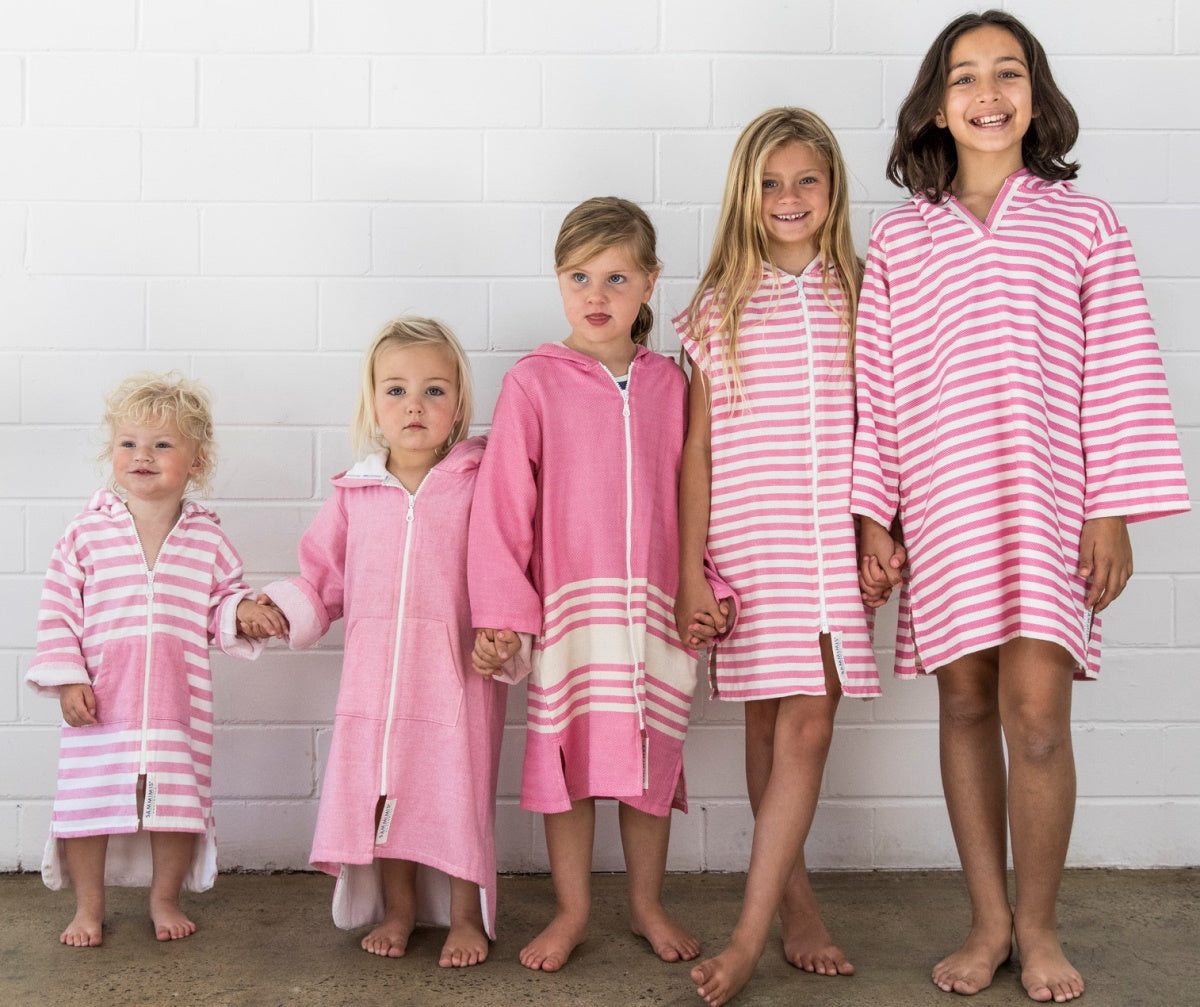 Choosing the right kids hooded towel
At SAMMIMIS we offer an extensive range of Kids Hooded Towels designed for every season and crafted with the highest quality Turkish cotton. Following is a quick overview of the features of the dif...
Read more