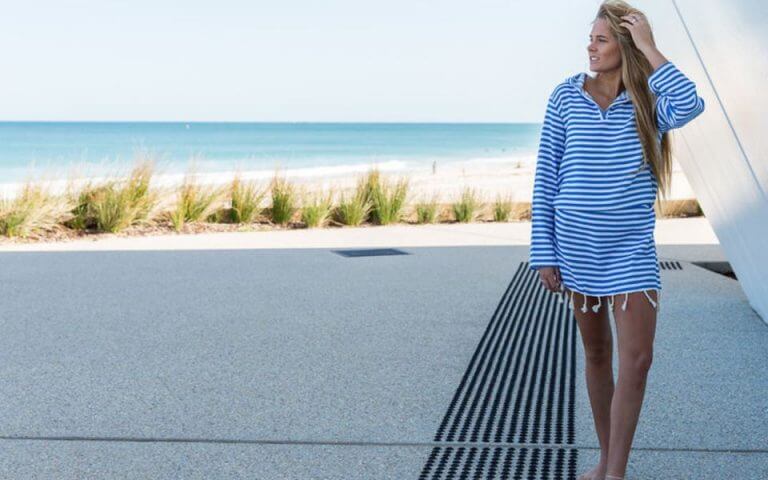 It's a dress and hooded towel in one!
The SAMMIMIS Amalfi sundress is an all-time favourite adult hooded towel. Fabulous to wear to the beach, pool, or after a shower.
Our 100% Turkish cotton hooded beach towel is made from the Amalfi Turkish towel fabric. It's loved for its softness, due to the Amalfi weave which is known for being gentle to skin. The Amalfi towel is also known for its absorbency. Get out of water, slip it on. Enjoy being dried without having to physically dry yourself…Bonus!
The natural material breathes so that it prevents sweating.  The soft fabric feels good against your skin and it quickly removes any water from your body. The Amalfi hooded towel is of the Premium Range quality, which give you more cotton = more absorbent. More Turkish cotton also means it is less prone to crinkle, so it always looks its best with little or no ironing!
This women's hooded towel offers several benefits over other hooded towels. Its oversized design and generous fit makes it easy to put on after getting out of the water.
It also has a larger hood than most hooded towels that just cover the back of your head. The large hood covers your entire head and the sides of your face. Large hooded towels offer better protection from the sun at the beach. The additional absorbent material also helps dry hair when you wear it after a swim at the beach, swim class or a shower.
The lightweight, absorbent properties of Turkish cotton makes the hooded towel ideal for any activities involving water. The chic style with hand finished tassels at the bottom also makes it a stylish choice for wearing to a beach cafe. Better yet, it folds to nothing which makes it a great travelling companion. Just take your SAMMIMIS hooded towel with you wherever you go and save space in your luggage.
The simple style gives a flattering fit to a range of body types. Splits on either side add to the comfort and style of the hooded beach towel, making it easy to walk or sit. The lightweight fabric, easy fit, and design makes the most flattering and comfortable hooded beach towel for adults. The hooded towel comes in Small right up plus sizes to XXL (women's size 8 through to 18.) Select your size from the guide beneath the product description.
Our large Turkish towel hooded towels are dyed with Textile Vegetable Dye (Oeko Tex confidence in textiles certified) and pre-washed to keep their colour and shape. The casual design is easy to wear, offers sun protection, and excellent absorbency.
The SAMMIMIS Amalfi adult hooded towel is your perfect accessory for wearing at home, to the beach, pool, or a beach café especially when you want to keep your bag light and your hands free!