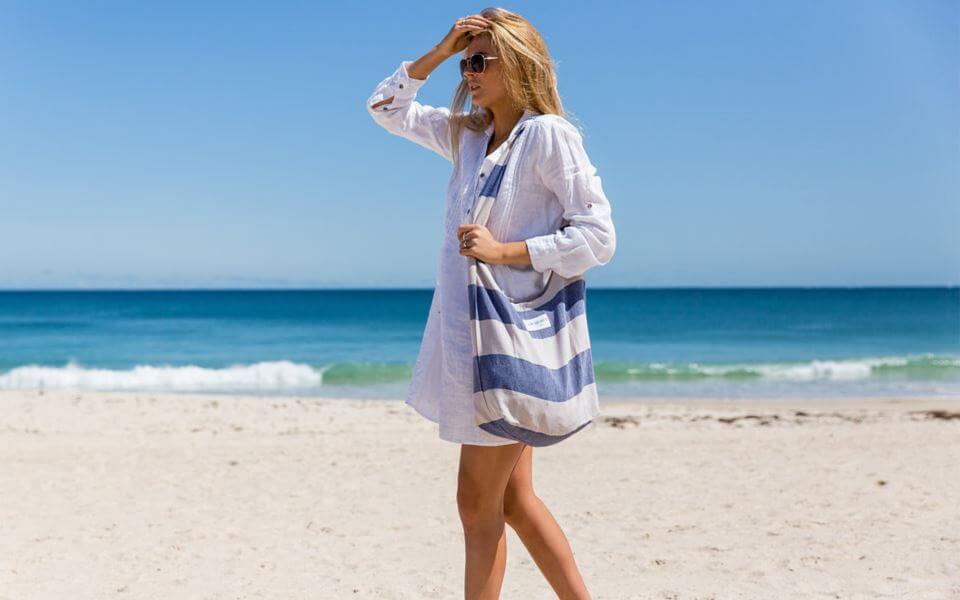 Function and Style in a Washable Slouch Beach Bag
Are you looking for a beach bag that is both fashionable and functional? The Santorini shoulder bag is the one for you. This large beach bag can easily hold all your essentials while leaving room for more.
This beach bag will keep all your items safe and dry during your long days at the beach, while making you the envy of your crowd.
Why Choose the Santorini Shoulder Beach Bag?
The Santorini beach bag is perfect for a day out at the beach. It's large enough to hold up 3+ SAMMIMIS towels, sunscreen, sun glasses, keys, phone and hat. Think of it as the one beach bag you simply can't live without.
Best of all, it's a very lightweight shoulder bag, weighing only 110g, making it easy and convenient to carry. You won't even feel like you are wearing it across your shoulders.
Made of 100% Turkish cotton that is easy to wash and dries quickly, the Santorini is sized at 42cm wide x 35cm high x 12cm deep with a handle length of 37cm. When not in use, it folds to nothing and can easily be stored in a drawer, or even in a handbag for times you need an extra shopping bag.
This slouch style bag also comes in a wide variety of colors so you can choose the one that best fits your personal style and preference. Use it as a tote bag for work, a day pack for long trips, or a lightweight beach bag while on holiday. No matter its purpose, the Santorini shoulder bag can go anywhere and serve a wide variety of needs and matches colours of the SAMMIMIS Turkish towel ranges or wet bags.
Santorini Shoulder Bag Features
The Santorini shoulder bag is also crafted from a light-weight fabric that is easy to clean and makes the bag comfortable to carry. It is also quite durable, ensuring years of frequent use.
The Santorini shoulder bag also makes a great gift. Do you know someone who is constantly searching for just the right bag to take to work, to the beach or out and about? This bag is versatile and will serve a wide variety of needs while looking fashionable along the way.
The Santorini shoulder bag also includes a comfortable strap that won't hurt your shoulder. No more making frequent adjustments to find the right way to carry the bag. The wide, soft carrying strap is easy on your arm, shoulder and neck. It is also made to stay in place, leaving your hands free as you tote your belongings to the beach and back in style.
Before using the Santorini shoulder bag, it is recommended you wash it to soften and strengthen the cotton fibers. This also results in a soft material that feels great on your skin and makes the bag irresistible to carry around.