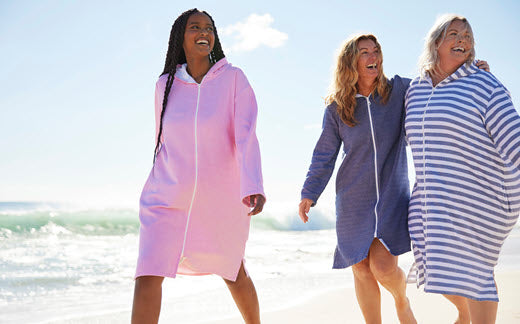 Hooded towels are not just for kids
Have you ever looked longingly at your child's hooded towel and wished you could have one of your own? Well, you can.
It may surprise you to learn there are a vast array of adult hooded towel options available. Whether you are planning a day at the beach, at the pool for your daily swim session, or are simply tired of using multiple towels for drying your body and hair, our Adult Hooded towels are for you. Made of SAMMIMIS signature Turkish cotton with a flat smooth finish on the outside and the choice of fluffy terry on the inside, and topped off with high-quality zips for easy wear.
Uses of Adult Hooded Towels
Adult hooded towels have many great uses. Dry your body and hair at the same time, thanks to the integrated hood. The soft Turkish Cotton fabric will provide warmth while soaking up any excess water, and is very absorbent even just after a swim or shower BETTER yet it dries fast. It's lightweight and the relaxed fit adds comfort while the zip makes it easy to put on.
The soft cotton is breathable, prevents sweating and feels soft on your skin. The 100% Turkish cotton is less prone to crinkling than standard cotton varieties, so you won't even need to iron the towel.
There's also no need to wrap an extra towel around your head after getting out of the shower. These large hooded towels provide an all-in-one solution that will make drying your hair easier than ever. Simply pull up the hood and you're good to go.
Carry your large hooded beach towel for adults to your next day outing and enjoy protection from the sun and wind while you remain cosy and dry. You can even wear it around the house after a shower just as you would a robe. Use an adult hooded towel literally anywhere you would a regular towel.
A unisex design suits men and women alike.
The Adult Hooded towels are available in sizes ranging from small to plus sizes up to 6XL and they are a straight fit from shoulders down to the bottom of the towel. There is a short split on each side, and a generous one in front making it easy to walk and sit while wearing.
The front split allows room for movement while still ensuring your legs remain covered while you are seated. The large hood will cover your head and the sides of your face, providing protection from the sun. It will also keep your head warm while your hair is still wet from a swim or shower.
The long sleeves also provide sun protection while effectively regulating your body temperature without feeling hot. Pre-wash keeps the colour and shape, ensuring the adult hooded towel is always ready when you need it. Simply remove it from its textile polybag, put it on and you're good to go. It can be packed in the bag again when not in use. Meanwhile, the safe Oeko Tex certified vegetable textile dye retains its colour for longer and rates this hooded towel 100% made by nature.
Reasons to Use Adult Hooded Towels
Hooded towels provide cover that regular ones don't. This is especially important if you are out in public and would like to cover a majority of your body while wearing a swimsuit.
Hooded towels will also keep you warm and are quite comfortable to wrap up in when you don't want to get too much sun at the beach. The plush terry material will feel soft against your skin, making you want to wear them long after you are dry.
Hooded towels are also fun and interesting and will make you the envy of those around you. While sporting yours at the beach or pool, people will undoubtedly ask you where you got it and how they can get one too – proven fact. If you're looking for a unique and fashionably practical way to keep dry this summer, the adult terry hooded towel is it.